Proud to serve the Texas Hill Country
The Propane Guy is a locally owned, family based business providing propane services to extended areas of the Texas Hill Country. We are located in Blanco, Texas, with our service area extending all over the Hill Country region. The Propane Guy is a full service provider serving both commercial and residential demands. We can deliver propane to your residence or business as an 'on route' customer or a 'will-call' customer.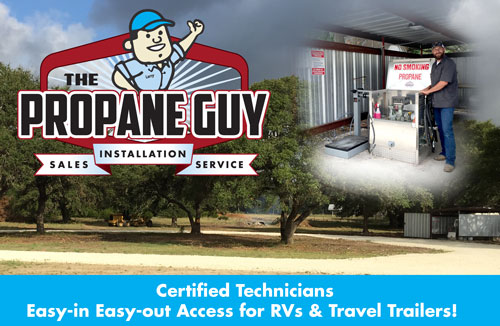 Easy Refueling Access! Let the certified team at The Propane Guy handle all of your propane requirements. We have technicians on-site to service the filling of portable cylinders. For those of you driving or pulling recreational vehicles, our location has a circle drive for easy-in, easy-out fueling. No backing up necessary!
Are you building a new home? Call The Propane Guy to help you from the ground up and provide turn-key propane installation service. We are Certified Residential and Commercial Propane Plumbing Installers! Enjoy the efficiency of propane in your home or business. The Propane Guy certified appliance technicians can install and repair water heaters – both traditional and on-demand types, range cook-tops, dryers, gas logs, space heaters, pool heaters, and more!
Begin building a relationship with The Propane Guy today! We understand you have a choice in who provides and services your propane. Customer service is our top priority, and we work very hard to provide it to you. We want our customers to be well informed and familiar with the safety aspects and use of propane devices. The Propane Guy is always available to answer your questions and meet your propane needs!
Our Management Team